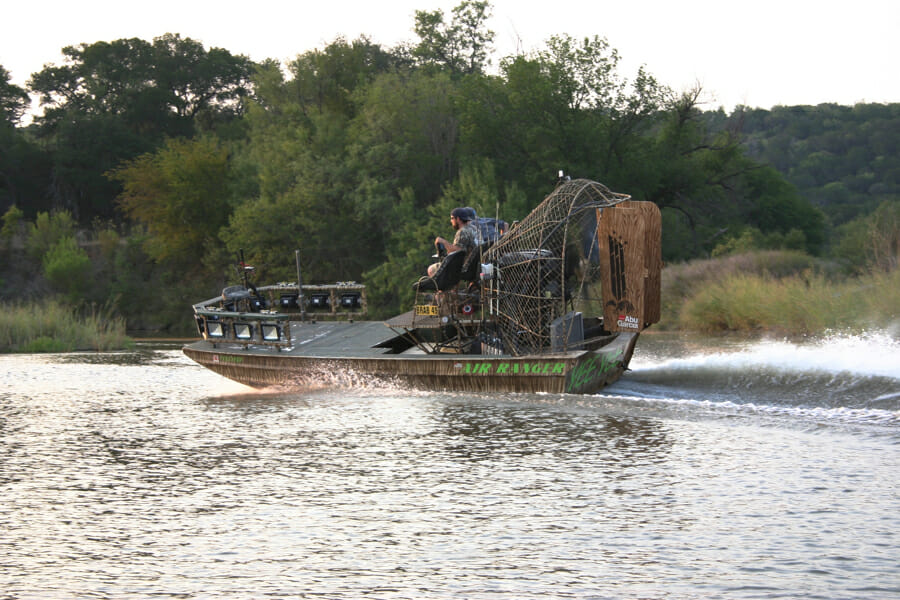 I'm still working on getting information updated on the site but I wanted to get some information posted as soon as possible.
I am pleased to announce that my good friend Robert Horton has joined the North Texas Catfish Guide Service team and will be running trophy catfish trips on the rivers in north Texas starting immediately.
Robert and I have been friends for several years and he's a perfect fit for North Texas Catfish Guide Service team. You'd be hard pressed to find a more well rounded and avid outdoorsman.
If it has something to do with catching, hunting or killing you can bet he has had his hand in it in some way or knows something about it. Outside of being a well rounded outdoorsman he's a real catfish catching dude and has the big trophy blue catfish pinned up in the rivers!
Combine his skills and ability to find catfish with one of the most impressive airboats you'll ever see and you have a dream catfish fishing trip.
A trophy catfish trip on Robert Horton's airboat is something you have to do at least once in your lifetime!
The experience of running down the river in the decked out 20′ Air Ranger Airboat alone is a once in a lifetime experience but couple that with the blue catfish you'll catch that nobody else can get to and you've got the experience of a lifetime.
Hop on board the 20 foot Air Ranger airboat and go on a river run in areas that rarely see humans and catch monster blue catfish with North Texas Catfish Guide Service.
River trips are focused on catching monster blue catfish and are all catch and release. No fish will be kept of any size.
Trips are available on the Red River as will as several other undisclosed locations in North Texas. Launch locations are all a short drive from the DFW metroplex.
We'll be adding more details and information to the main website in coming weeks. In the meantime feel free to give us a shout at 817-522-3804 for more information or to book your river trip for trophy blue catfish.
Be on the lookout for pictures, and more details on these guided catfish trips on the Texas rivers.
The Air Ranger airboat has been sold. At this time we will not be offering guided catfish trips on the Brazos or Red River until further notice. 
More Changes To North Texas Catfish Guide Service
Robert Horton joining the North Texas Catfish Guide Service team is the first of several changes I'm making. There will be several more announcements in the coming months.
Despite rumors, I am still guiding and will continue to do so, I'm just making some changes, bringing on some additional help not only on the water but in the office as well. Over the next few months I'm taking some extra time to focus on several things that need to be ready for spring 2014 but other than that it is business as usual.
I'm focusing on the business and streamlining processes. Over the past thirteen years I've run the guide business the same way from day one and never put much thought into how everything works and how cumbersome it is not only on me and trying to manage the day to day business and bookings but but on you, the customer.
We're working on streamlining everything to make reservation inquiries, booking and paying deposits easier to getting instructions and information to you before the trip.
Over time I've continued to run the guide business, take customers fishing and manage all aspects of the business from reservations to booking and everything in between.
When you add the responsibilities that come along with managing Learn To Catch Catfish and Catfish Edge  and growing commitments with writing and photography for magazines it's put me in a situation where I can't even think straight (and I screw a lot of stuff up).
As we streamline booking/payments and make changes to the way we do business you may communicate with some people you have not spoken with before (primarily my wife Leanne). If you need to speak with me at any time feel free to call or email and I will get right back with you!