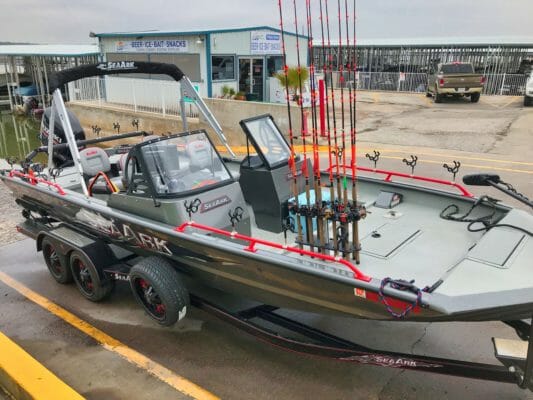 I just wanted to post a few updates since it's been a while since I have uploaded anything here on the website.
Yes, we're still fishing (like always) and still providing guided catfish trips on the lakes we fish. We're primarily fishing at Eagle Mountain Lake right now (right here in Fort Worth).
We received our 2020 SeaArk Boats ProCat 240 and it's rigged and up and running (shown right). It looks a lot like the last boat we were running, and it is. Other than being a darker color silver on the exterior and having a few more bells and whistles it's the same boat and as always it's decked out with all the latest and greatest technology from Humminbird and Minn Kota as well as all the Whisker Seeker Tackle gear!  It also has the full cabin enclosure just like the last one so we'll stay warm and dry on those nasty winter days.
Fishing Report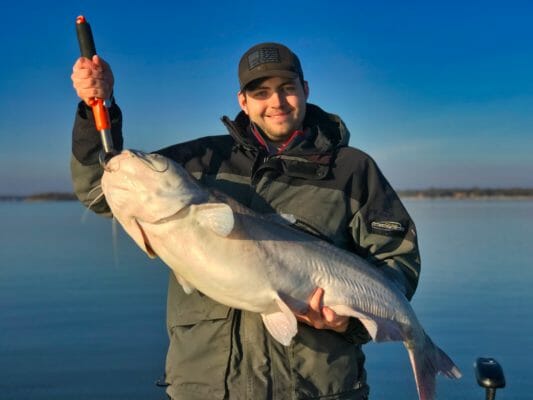 It's been a strange fall and winter here in North Texas, we've had a couple of short cold snaps and it dropped the water temperatures pretty quickly and then things got strange. It was 70+ degrees on Christmas day and we've had several multiple-day stretches with unseasonably warm temperatures. The water temperature hit the point in mid-November where the trophy blue catfish starts to get good and then it's just kind of hovered there ever since (and even warmed beyond that point). We're still catching blue catfish, and still catching trophy catfish but there have been some days where we've really struggled to stay in fish because they've been so scattered!
Here's a photo (shown right) of one of the trophy blue catfish caught in the past few days.
The weather has finally cooled off some, we've had a little rain and a couple of good cold nights with strong north winds and that's dropped the water temperature back down some and should help the fishing considerably. The more cold weather we get the better the trophy blue catfish action will be and it looks like that cold weather is coming. It's been a while since we've had a strange winter like this but the last time it happened the trophy blue catfish action in late January, February and March was absolutely epic! I've got some dates available so get them booked now while you can!
My spring blue catfish dates are starting to fill now so if you want to get in on the best fishing of the year for numbers of blue catfish don't wait to book because those dates fill early!