It's been a busy week around here! First I wrote a couple of weeks ago in my fishing report about my sons pending Texas State Junior Angler Record Blue Catfish.  The records were certified last week and we got everything in the mail. Lane ended up with a total of 6 Texas state records and 1 award from Texas Parks and Wildlife, including the following (all water body records are for Lake Worth)
(1) Catch and Release Water Body Record
(2) Water Body Record
(3) Catch and Release Water Body Junior Angler
(4) Water Body Record Junior Angler
(5) Catch and Release State Record Junior Angler
(6) State Record Junior Angler Blue Catfish
(7) Big Fish Award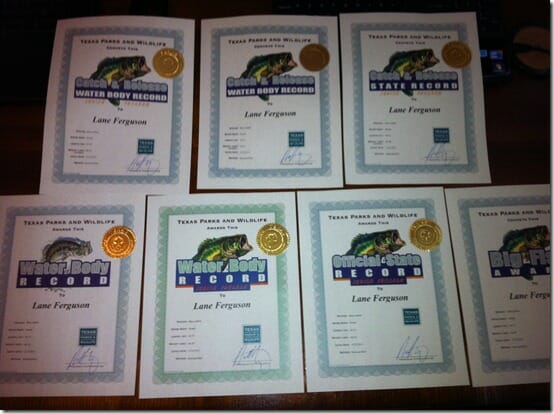 On top of receiving the records this week Lane was also featured in the Dallas Morning news on Sunday January 22nd 2012 for catching the big catfish and there is also a brief Q&A section with me on fishing for trophy blue catfish. Be sure to check it out when you have a minute it is available on the Dallas Morning News website also.
There have been a number of other media reports over the past few weeks including this one from Brazos Outdoors.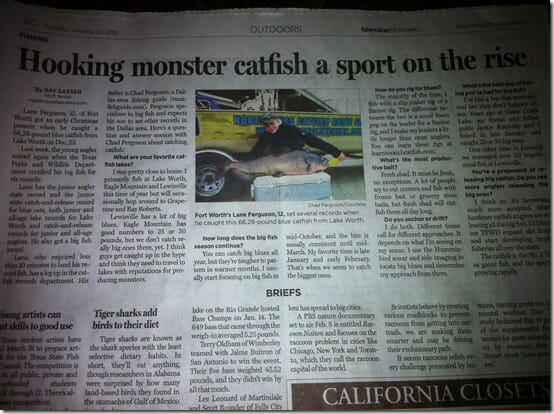 Fishing Report
The fishing this past week has been much like it has been the past few weeks, CRAZY. There have been some great days and some bad days and the fishing is just all over the place. This is hands down the craziest winter I have fished since I started guiding ten years ago. The weather patterns are causing the big blues to move around a lot and they are doing some really weird things, and the water temperature is much warmer than it typically is this time of year. I have fished in shorts and t-shirts several times in the past couple of weeks and actually been hot while I am fishing.
It seems like as long as we have some wind and cooler weather the fishing is good and as soon as we get these warm bluebird days the fishing gets tough. We have had some good success on these warmer days but they have definitely been much more difficult to fish.
My spring schedule is starting to fill up quickly so if you plan on fishing late March, April or early May you need to give me a shout and get on the schedule as soon as possible.
Learn To Catch Catfish
In February 2012 I am releasing the next installment in my series of e-books and online training programs, Spring Catfishing. This is an in depth step by step guide on locating and catching blue catfish in the Spring. There is a brief summary of what to expect in the video below. You can learn more on the Spring Catfishing page on Learn To Catch Catfish.