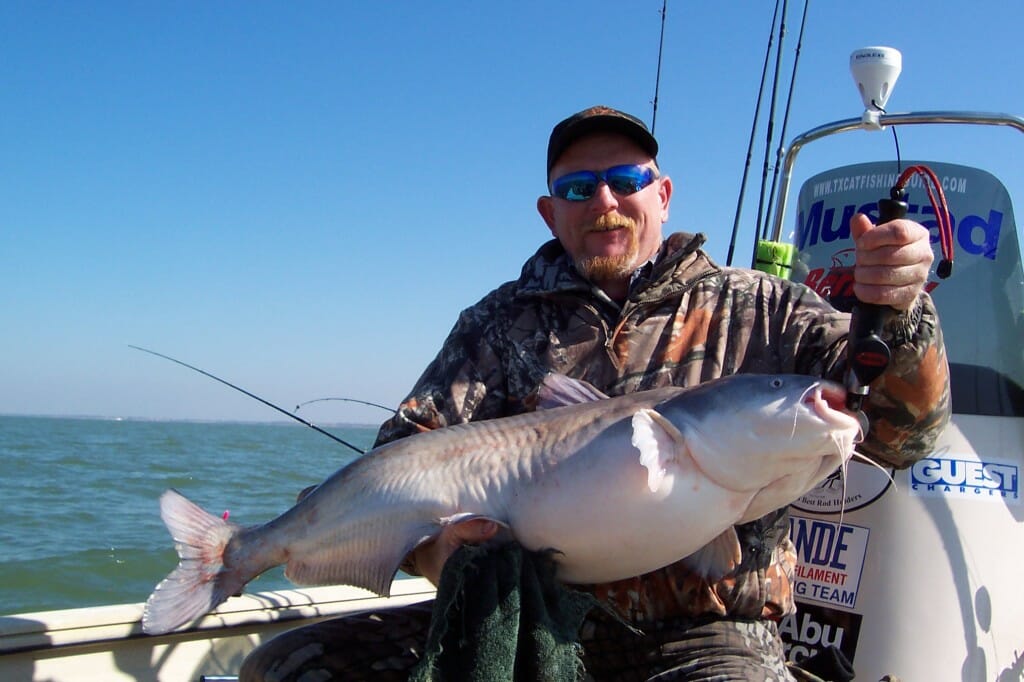 Lake Lewisville Catfish Fishing Guide
Our Lake Lewisville Catfish Guide Trips blue catfish, channel catfish and flathead catfish are what we fish for. North Texas Catfish Guide Service is the lakes oldest and longest running fishing guide service.
Our Lake Lewisville Catfish Guide offers guided catfish fishing trips on this lake located in North Texas. The lake is a 29,592 Acres Impoundment located on the Elm Fork of the Trinity River in Denton County near the City of Lewisville.
Lake Lewisville was impounded in 1954 and is an excellent lake for blue catfish and channel catfish as well as flathead catfish. The lake is also home to some huge trophy blue catfish and has been rated several times as one of the Top 5 blue catfish lakes in Texas.
This lake offers good numbers and size on both blue catfish and channel catfish as well as some big flathead catfish. All species are abundant.
Located just north of the Dallas Fort Worth Metroplex this is a short drive from most anywhere in the DFW area.
Lake Lewisville Catfish Guide service is an excellent choice for a guided catfish fishing trip in the Dallas Fort Worth area and always produces some nice catfish. If your wanting to catch some nice "eating sized" blue catfish or channel catfish or get your line stretched by a trophy blue catfish then Lake Lewisville Catfish Guide Service is an excellent choice for your guided catfish fishing trip.
Lake Dallas is the "Old Lake" and many still refer to the upper Northwest arm of the lake as Lake Dallas so if you hear someone talking about Lake Dallas catfish it is actually Lake Lewisville they are referring to.
Food and lodging are available in the Nearby Towns of Lewisville, Shady Shores, Lake Dallas and Hickory Creek and there are several state parks and RV parks in different areas around the lake.
Lake Lewisville Catfish Guide Service offers excellent fishing year around so any time of the year would be a great time for a guided catfish fishing trip with North Texas Catfish Guide Service.
For Winter catfishing Lake Lewisville Catfish Guide Service will focus on trophy blue catfish or catching numbers of blue cats. The trophy blue catfish trips are catch and release only on all catfish over 10 lbs and all trophy catfish trips are done with rod and reel.
Most of the catfish will average 25-30 pounds but catfish over 50 lbs are abundant in Lake Lewisville. The best time of the year for trophy cats are November, December, January, February and Early March.
North Texas Catfish Guide Service will do it's best to put you on a big trophy blue and get your line stretched anytime your fishing with us though, not just in the dead of winter.
We also have a great time with the cormorant catfishing in the Fall and Winter. Cormorant catfishing (also called "Fishing the Birds" or "Fishing the Water Turkeys") is a great way to catch a nice mess of blues and channels. Cormorant catfishing trips will start in early October and be good through the middle of spring, usually mid April. On cormorant catfishing trips in the fall and winter most of the fish are usually blues and average in size from one to ten pounds but an occasional trophy cat is possible and catfish in the 20-35 pound range are very common on cormorant catfishing trips .
Once the weather begins to warm up the catfishing warms up as well. North Texas Catfish Guide Service will start focusing on structure fishing Lake Lewisville for blues and channels. The spring and summer will produce good numbers of blues and channels and some good sized fish as well. The rod and reel catfishing will get fast and furious in the spring and makes for some great spring catfishing and summer catfishing.
When the days get really hot in the dead of summer, we will focus on fishing early mornings and late evenings and nights on Lake Lewisville. The catfishing stays great throughout the summer and some great catfishing will still take place. Night fishing trips are also a great way to take in some catfish action in the summer and usually produce some really good numbers of catfish.
The bottom line is, the catfishing is great all year long and anytime is a great time to catch fish with us.
Be sure to check our photos and videos pages for some pictures and video of some of the red hot catfishing action we offer!
Your guided catfish fishing trip on Lake Lewisville with North Texas Catfish Guide Service will begin at either the Shady Shores "Big Sandy Access Area" on the old lake or at the Tower Bay Park near the I-35 Bridge on Lake Lewisville. North Texas Catfish Guide Service will let you know what ramp to meet us at the day prior to your catfish fishing trip.
You can call us at 817-522-3804 to schedule your catfishing trip with North Texas Catfish Guide Service..
Lake Lewisville Facts
Location: Lake Lewisville is located on the Elm Fork of the Trinity River in
Denton County near Lewisville
Size: 29,592 acres
Maximum Depth: 67
feet
Date Impounded: 1954
Normal Water Clarity: Murky
Water Level Fluctuation: 4-8 feet
annually
Aquatic Vegetation: Sparse at present; a native plant restoration project is currently being conducted by the USACE Aquatic ecosystem Research Facility and Texas Parks and Wildlife
Predominant Fish Species: Largemouth bass, white bass, white crappie, hybrid and striped bass, blue catfish, and channel catfish
ACCESS/CAMPING: The Army Corps of Engineers operates major parks or has leased parks out to the surrounding communities. Most of these parks provide campgrounds, beaches, picnic areas, and opportunities for shoreline fishing. Good boat ramps are available at East Hill Park, Stewart's Creek Park, Hidden Cove City Park, Little Elm, Big Sandy, Westlake Park, Arrowhead Park, Sycamore Bend, Pilot Knoll, Tower Bay, and City Park. An entrance/boat ramp fee is charged at USACE parks and most other parks.
FISHING TIPS AND TACTICS: Largemouth bass can be found around available structure (timber) in covers or along the shoreline. White bass school in the main lake during the summer, follow the gulls. Crappie fishing is excellent under the bridges that cross the arms of the lake. Hybrid Bass and Striped bass are found around humps and ridges on Walnut Creek and the Main Lake. Catfishing is excellent in Old Lake Dallas.