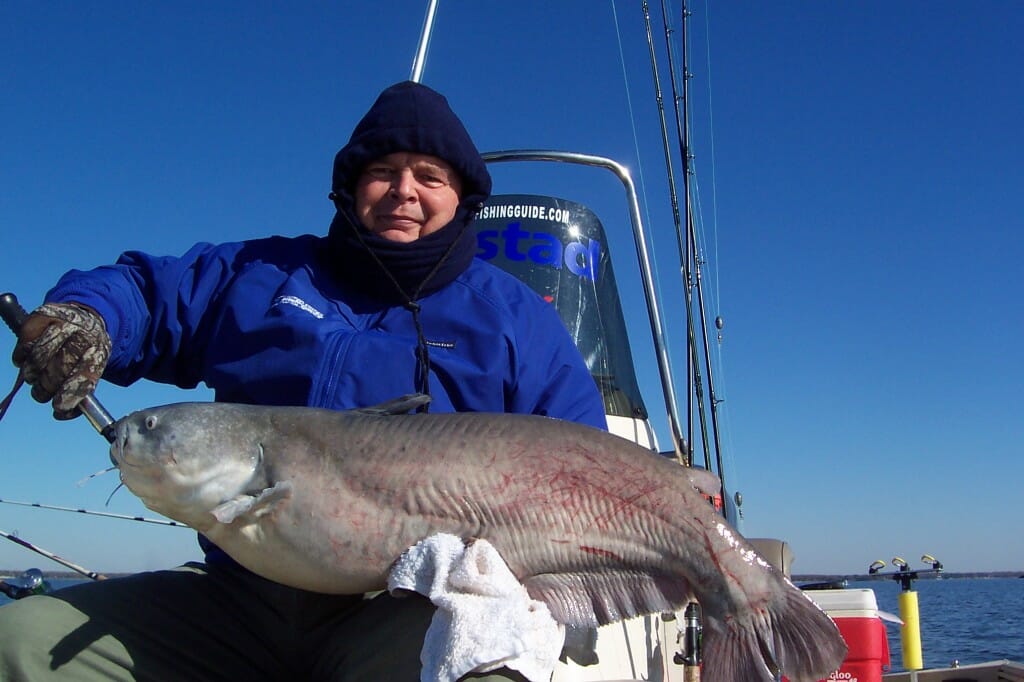 Lake Ray Roberts Catfish Fishing Guide
Our Lake Ray Roberts catfish guide trips with North Texas Catfish Guide Service are an excellent option for anglers who want excellent catfishing for blue catfish, channel catfish and flathead catfish and also for those who want to "get away from it all" and all the hustle and bustle in the DFW area.
This lake, located just thirty minutes north of Dallas and Fort with north of Denton Texas and is home to some excellent catfishing and home to several amazing Texas State Parks to spend a day, the weekend or an entire week.
Lake Ray Roberts is an excellent lake for channel catfish and produces good numbers of channel catfish all year long. This lake produces some red hot channel catfish action all year long using a variety of techniques. Our Lake Ray Roberts catfish guide trips for channel catfish are always a popular option.
Blue Catfish populations have increased in recent years and this lake has begun to produce good numbers of blue catfish and even some trophy class blue catfish as well. Flathead Catfish on this lake are abundant and produce good number and there are some monster flatheads in the lake so rod and reel fishing for flathead catfish is a good option.
There are numerous state parks and campgrounds available around Lake Ray Roberts for camping or to park your RV and lodging is available in nearby Sanger or Denton Texas. There is also on the water lodging and cabins available at Lake Ray Roberts.
Lake Ray Roberts catfish guide trips with North Texas Catfish Guide Service begin at either the Sanger Access area or at the Buck Creek Ramp depending on what time of year you are fishing with us.
Lake Ray Roberts Facts
Location: On the Elm Fork of the Trinity River, 10 miles north of Denton off FM 455. The dam is in Denton County but pushes water into
Cooke and Grayson counties.
Surface area: 25,600 acres
Maximum depth: 106 feet
Impounded: 1987
Water Conditions
Conservation Pool Elevation: 632.5 ft. msl
Fluctuation: 3-5 feet
Normal Clarity: Clear
Aquatic Vegetation: More than half the shoreline has native floating, native submersed, or non-native submersed aquatic vegetation (about 2,212 surface acres in all). Floating species include floating pondweed, American lotus, and water primrose. Native submersed species are American milfoil, bushy pondweed, and Chara. Non-native hydrilla is also present.
Angling Opportunities: Guided trips for largemouth bass, catfish, and crappie are popular on this lake. There are many good spots to fish for largemouths. White bass fishing peaks in the spring during the spawning run up tributaries, and again in the summer when bass school in the main pool off the dam. Crappie produce best in winter, and catfishing is great all summer, especially in early June when feeder creeks
carry runoff.
Fishing Cover/Structure Approximately 2,000 acres of standing timber, located mostly in the upper reaches of both major arms. There is rip-rap along the dam at the south end of the main pool and 2,212 acres of floating and submersed aquatic vegetation. Additional structure is provided by stream channels, flooded main-lake points, inundated pond dams, flooded rocks/boulders/stumps, and 44 inundated brush piles constructed before impoundment. Some of this structure is shown on lake maps available from the Chambers of Commerce or at most fishing
tackle stores.
Tips & Tactics: For catfish, bait up with cut bait, shrimp, or stink bait. Crappie produce best in the winter when they school deep and around structure or during the spring when they come in to spawn. In either case the baits of choice include a myriad of jigs and minnows. For sunfish such as bluegill, fish around any flooded brush or rocks and use live earthworms.