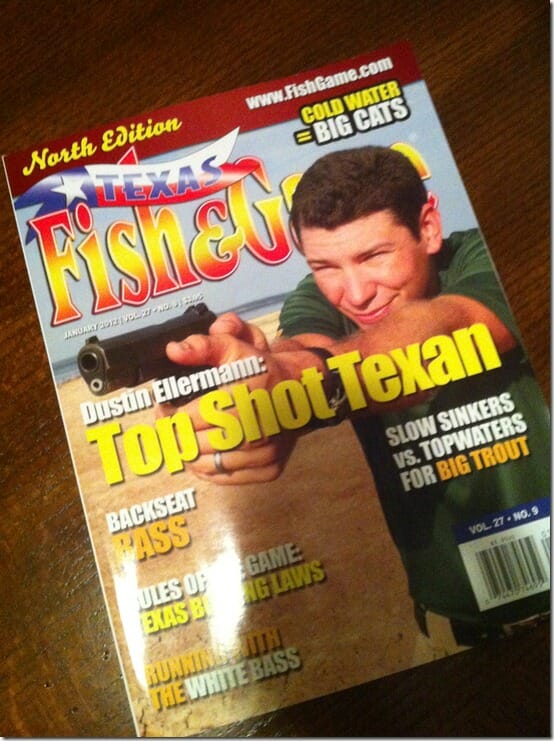 I am trying to get back in the habit of posting fishing reports every 1 to 2 weeks here on the site.
Before I get into the fishing report I wanted to share a recent media piece that was done on me and North Texas Catfish Guide Service by Matt Williams. The piece is titled Cold Water = Big Catfish and the article is on page 42 of the January 2011 issue of Texas Fish and Game Magazine. I will try to remember to post a link next month when the article is available on their website or you can check it out at newsstands now.
You can also check out or media page to view other articles, videos and news coverage on North Texas Catfish Guide Service.
Texas Catfish Guide Fishing Report
I have been fishing Lake Worth the past week and concentrating solely on trophy blue catfish. Fish have been good to 40 lbs with a lot of good fish over 20 lbs but the bite has been a little inconsistent. The unseasonably warm weather we have been having has the bait fish scattered and the blue catfish always follow them. We have had to spend a lot of time hunting and chasing fish as they are not nearly as stacked up as they should be this time of year. The weather has been crazy to say the least being early January and I fished in shorts several times over the past week it was so warm.
We finally had some cooler weather roll through yesterday and it has been raining for the last 24 hours. The weather is supposed to stay cool over the next week so it should help the fishing considerably. The much needed rain is a welcome site also and we are getting some good runoff into the lakes. Hopefully this will help the water levels some at Eagle Mountain Lake and Lake Grapevine over the next couple of days.
I am starting to get a lot of calls about the early spring Brazos River fishing trips from those that have fished with me in previous years. I have not been on the river but I am getting reports that there is golden algae in the river and it has moved up as far as Sanchez Creek. This is only second hand information and I have not verified with Texas Parks and Wildlife or been on the Brazos River myself. I am being told however the fish kills are starting and there are dead fish everywhere. I plan on going out to verify this later in the month and put some calls into the parks and wildlife folks. If the fish kill did occur it is not likely I will do any of the early spring trips on the Brazos this year.
Availability and Spring Catfishing Action
I have a handful of January and February dates still available for trophy catfish. I am already starting to get a lot of bookings for spring shallow water catfish trips. The big fish bite will hold out until early to mid March and then I will turn my focus to box fish with some bigger fish mixed in.
Spring is absolutely the best time for catching excellent numbers of blues and is hands down my favorite time of the year to catch shallow water catfish.
If you are interested in booking give me a call at 817-522-3804 or email me at chad@learntocatchcatfish.com